The following is reproduced from a company brochure.
Yuengling of Pottsville: America's Oldest Brewery.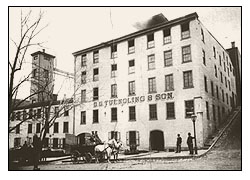 In spite of the demise of countless breweries throughout the country, Pennsylvania's popular Yuengling Brewery survives as a thriving business and historic treasure. It owes its ongoing success to the remarkable combination of pride and determination, tradition and innovation evidenced throughout its challenging history.
Nestled among the rolling Appalachian foothills, the D.G. Yuengling and Son Brewery is located in Pottsville, Schuylkill County, Pennsylvania. Today, the company proudly boasts an unmatched record of continuous operation since 1829 and the longest uninterrupted history of management by a single family in the country.
Both comments and pings are currently closed.